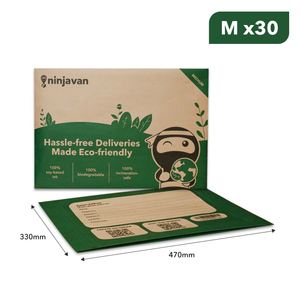 Hassle Free Deliveries Now Made Eco-Friendly! 
Introducing Eco Ninja Packs! The all new Eco-friendly postage-paid poly mailers that allows for doorstep delivery island wide! Simply drop off your parcel at any one of our 900+ Ninja Points and have your parcel delivered to your recipients doorstep within 1-3 working days! Eco Ninja Packs are 100% Biodegradable and are made from Kraft Paper that has water resistant coating. It also comes in 2 different sizes (XS - 17 x 23cm and M - 33 x 47 cm) giving you more shipping solutions to choose from!
Product features
Material

Kraft paper

Dimension of an Eco Ninja Pack M

W: 33cm


H: 47+ 5cm (flap)

Polymailers included in the bundle

30 pieces

Price per Pack M when purchased in bundle of 5

$4.30

Suitable to ship

Clothing, books, bulky items, etc.

Built-in bubble wrap

No

Liability

Capped at $50 (T&Cs apply)

Validity

1 year
What are Ninja Packs ?
Ninja Pack is a postage-paid poly mailer for domestic doorstep delivery within Singapore. Buy it, create an order on our dashboard online, drop it off at any of our drop-off points and ... that's it ! Ninja Packs are also a great shipping solution for small business owners. Keep your shipping costs low and grow your e-commerce business with a reliable logistics partner in Ninja Van!
With 4 Easy steps you can now get your products delivered to your recipients doorstep in just 1-3 working days!
Step 1:
Buy your postage-paid poly mailer.
Step 2: 
Create your order on our Dashboard
Step 3:
Drop off your Ninja Pack at any one of our 900+ Ninja Drop-off points
Step 4:
Track your order with the Unique Tracking ID as it delivers to your recipient in 1-3 working days!
Why Choose Eco Ninja Packs? 
Eco Ninja Packs are 100% Biodegradable.

Reduce waste and choose biodegradable options to protect the environment! Our Eco Ninja Packs are made from Kraft material and are 100%  biodegradable.

Grow your business, whilst protecting the environment. 

Stand out and appeal to environmentally conscious consumers by offering eco-friendly packaging options.

Recycled Materials

Eco packs are made from 100% recycled wood pulp. In addition, one of the major benefits of kraft pulping is that roughly 90% of the pulping chemicals can be recovered and reused in an economical manner. This makes the process more sustainable and generates minimum environmental impact.

Water Resistant Coating

Afraid that the Eco Ninja Packs might tear when in contact with water? Fret not! Our Eco Ninja Packs are made from aqua-coated kraft paper which allows it to remain intact when exposed to the rain. 

Eco Ninja Packs use soy-based ink.

To enhance the eco-friendliness of the product, Eco Ninja Packs use 100% soy-based ink on its packaging. 
New to Ninja Packs ?
Get started now with our step-by-step tutorial!
For more information related to purchasing of Ninja Packs on this website (payment, delivery, exchange policies, etc.), kindly refer to our Terms of service. Before purchasing and/or using Ninja Packs, please read our Ninja Packs Terms and Conditions. Note that delivery with Ninja Packs and other Ninja Van delivery services is not available for a list of prohibited items. Additionally, Ninja Van will only be able to deliver within designated serviceable areas. Deliveries with Ninja Packs and other Ninja Van delivery services is only available if your parcel(s) strictly follow our packaging guidelines.
For any further enquiries about our Terms and Conditions, service limitation or how to use Ninja Packs, please reach out to us at sg-ninjapack@ninjavan.co.
Ready to get started ?
---
---